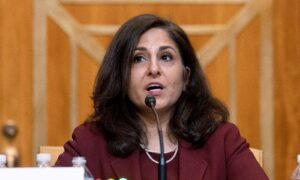 President Joe Biden's nominee Neera Tanden has withdrawn her nomination for Director of the Office of Management and Budget, the White House confirmed on Tuesday, signifying the first cabinet defeat for the Biden administration.
Tanden's request to withdraw comes as senators expressed reservations about the nominee over her incendiary statements that had insulted lawmakers, including those who are currently in office.
She told Biden in a letter that "it now seems clear that there is no path forward to gain confirmation" and that she didn't want her nomination "to be a distraction from [his] other priorities."
Biden said he accepted her request and indicated that she would be selected for another role in his administration.
"I have the utmost respect for her record of accomplishment, her experience, and her counsel, and I look forward to having her serve in a role in my Administration. She will bring valuable perspective and insight to our work," Biden said in a statement.
Tanden's nomination began to fall apart when Sen. Joe Manchin (D-W.Va.) said he would oppose her nomination due to her partisan statements directed to lawmakers on both sides of the aisle. She also drew ire from a number of Republican senators who also came out in opposition to her.
Her statements include calling Sen. Tom Cotton (R-Ark.) a "fraud" and accusing Senate Minority Leader Mitch McConnell (R-Ky.) of being beholden to Russia. She also wrote in an essay that opposition to abortion became "successful as a political cudgel, helping isolate extreme anti-choice advocates from the mainstream."
"That one seems to have crossed a different line for me," Sen. James Lankford (R-Okla.) told Tanden during her recent confirmation hearing.
Tanden, who is currently president of the Center for American Progress, told senators during her confirmation hearing that she regretted her incendiary remarks made against the lawmakers.
"Senator, I appreciate people's concerns about my tweets and I've regretted them. And I deleted tweets because I've regretted my tone and I've deleted tweets over many months," she said.
"But for those concerned about my rhetoric and my language, you know, I'm sorry. And I'm sorry for any hurt that they've caused."
She has deleted more than 1,000 posts since the November 2020 election.
McConnell told reporters on Capitol Hill last week that he hoped every Republican would oppose Tanden, as some were still making up their minds about how they would vote.
Two Senate committees also postponed confirmation votes for the nominee. Sen. Bernie Sanders (I-Vt.) told reporters at the Capitol at the time that it was because she "didn't look like she had the votes."
"I think there's no secret she's lacking the votes right now and she's working hard to try to get the votes," Sanders said.
White House chief of staff Ron Klain previously said that if Tanden isn't confirmed, then the administration would find her another role.
"If Neera Tanden is not confirmed, she will not become the budget director," Klain during a television appearance on MSNBC. "We will find some other place for her to serve in the administration that doesn't require Senate confirmation."
Zachary Stieber contributed to this report.