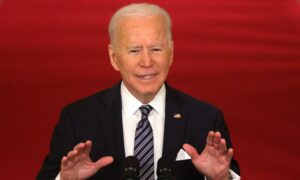 President Joe Biden on Monday urged governors, mayors, and other officials to maintain or reinstate the policy that people wear masks in public when social distancing isn't available to prevent the spread of the CCP virus.
"I'm reiterating my call for every governor, mayor, and local leader to maintain and reinstate the mask mandate. Please, this is not politics. Reinstate the mandate if you let it down," he said at an event in Washington D.C.
Asked later if some states should pause reopening efforts, Biden responded: "Yes." He did not elaborate.
In recent weeks, several governors have rescinded their mask mandates. On Sunday, one of them, Texas Gov. Greg Abbott, wrote that the "7-day Covid positivity rate dropped to a new recorded low: 4.95 percent. Hospitalizations dropped to a 6 month low. This week we have 1 million 1st vaccines available."
"Everyone now qualifies for a shot. They are highly recommended to prevent getting Covid but always voluntary," the Republican governor added.
About three weeks ago, Abbott announced that the state would lift its mask mandate and reopen businesses. Following Abbott's order, there were grim prognostications that Texas would lead to a health catastrophe, which for now, appears to be not materializing, according to the data.
Mississippi also removed its COVID-19 restrictions at around the same time. According to Centers for Disease Control and Prevention (CDC) data, Mississippi is seeing an average of around 250 daily cases, which is a decrease from the previous month of about 520.
Biden, in response to the lifting of mask mandates, described the orders as "Neanderthal thinking." He added at the time: "I hope everybody's realized by now, these masks make a difference. We're on the cusp of being able [to] fundamentally change the nature of this disease."
In the United States, the seven-day average of hospital admissions with confirmed suspected CCP (Chinese Communist Party) virus cases increased overall, according to Department of Health and Human Services (HHS) data.
Earlier in the day, CDC Director Rochelle Walensky issued a warning about a so-called "fourth surge."
"We do not have the luxury of inaction. For the health of our country, we must work together now to prevent a fourth surge," she said.
According to the CDC director, the seven-day average of new cases in the United States is around 60,000 per day, a 10 percent increase over the past week. That figure is still much lower than the all-time peak in January 2021.
Biden on Monday also announced that 90 percent of Americans will be eligible for the CCP virus vaccine by April 19, or which is about three weeks away.