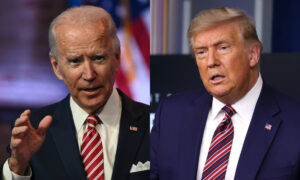 President Joe Biden and former President Donald Trump both wished the public a happy Easter on Sunday.
"Jill and I want to send you our warmest Easter greetings to you and your family. As we celebrate this most holy day, we know many are still going without familiar comforts of the season," Biden said in a video. "The virus is not gone, and so many of us feel the longing and loneliness of distance. For a second year, most will be apart from their families, their friends, full congregations that fill us with joy," he continued.
He was joined by First Lady Jill Biden, who called on the public to get vaccinated for COVID-19, the disease the CCP (Chinese Communist Party) virus causes.
"Today, as spring returns, we see hope all around us. Families are getting the financial help they need to take a breath once again," she said. "Businesses are recovering and more and more Americans are getting life-saving vaccines."
"Happy Easter to ALL, including the Radical Left CRAZIES," Trump said via his Save America PAC on Sunday.
"For years the Radical Left Democrats have played dirty by boycotting products when anything from that company is done or stated in any way that offends them," Trump said. "Now they are going big time with WOKE CANCEL CULTURE and our sacred elections. It is finally time for Republicans and Conservatives to fight back—we have more people than they do—by far!" Trump also wrote over the weekend.
Before that, Trump called on conservatives to boycott Major League Baseball (MLB) games after the league pulled its annual All-Star game from Atlanta, Georgia, in protest of a major new voting law passed in the Georgia Legislature last month.
"Baseball is already losing tremendous numbers of fans, and now they leave Atlanta with their All-Star Game because they are afraid of the Radical Left Democrats who do not want voter ID, which is desperately needed, to have anything to do with our elections,"  Trump said in a statement on Saturday.
The MLB decision prompted GOP lawmakers to suggest that MLB's antitrust protection should be pulled, saying the league is punishing its political opponents. The move came as Chinese state media reported on April 1 that the MLB will continue to be aired on the streaming platform operated by Chinese tech giant Tencent, which has significant ties to the CCP. Tencent is one of the Chinese companies that had temporarily dropped NBA games as a form of censorship after former Houston Rockets general manager Daryl Morey spoke out in support of the pro-democracy protests in Hong Kong.
Ivan Pentchoukov contributed to this report.