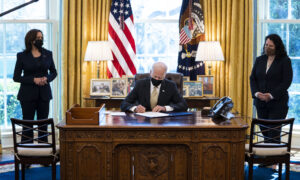 President Joe Biden signed a bipartisan bill into law on Tuesday afternoon, extending the Paycheck Protection Program (PPP) for another two months for small businesses impacted by the pandemic.
The PPP is a loan designed to provide economic relief for small businesses to keep their workers employed during the COVID-19 pandemic. The loan is back by the Small Business Administration (SBA) and is forgivable.
"It is a bipartisan accomplishment," Biden said when he signed the bill. "Without somebody signing this bill today, there are hundreds of thousands of people who lose their jobs and small family businesses that might close forever."
"And as you know, small businesses are the backbone of our economy, representing almost 50 percent of all the employees in America," Biden added.
The bill (pdf) is called the PPP Extension Act of 2021. It extends the program to June 30, 2021. Otherwise, the program will expire on March 31, 2021.
However, the final 30 days is for processing the applications. Borrowers must apply for the loan before June 1.
The House passed the bill on March 16 and the Senate approved it on March 25 by a vote of 92–7.
"As our communities continue to confront this unprecedented economic crisis, it is critical that our small businesses and workers receive the support they need to stay afloat," said Sen. Gary Peters (D-Mich.) when the Senate passed the bill. "I am pleased to help the Senate pass this extension for the Paycheck Protection Program that will ensure that small businesses can continue to apply for federal relief."
Biden's COVID relief bill—the American Rescue Plan, which Biden signed into law on March 11—provides $7.25 billion for the PPP loan and expands PPP for non-profits.
The Biden administration announced changes to the program in February, providing more financial support to sole proprietors, independent contractors, and self-employed individuals. The change also provided a two-week application window exclusively for small businesses with less than 20 employees.
The PPP was first established by the Trump administration last year through the Coronavirus Aid, Relief, and Economic Security Act (CARES Act).