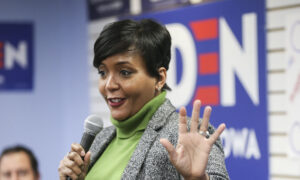 Atlanta Mayor Keisha Lance Bottoms issued an order on Tuesday that seeks to "mitigate" the impact of a series of election reform measures enacted to advance voting integrity in Georgia.
Bottoms directed the city's chief equity officer to develop a plan of action intended to make voting more accessible for Atlanta residents following the passage of Senate Bill 202. The mayor argued that she believed the voting law would restrict voting for minority groups and communities of color.
"The voting restrictions of SB 202 will disproportionately impact Atlanta residents—particularly in communities of color and other minority groups," Bottoms said in a statement. "This Administrative Order is designed to do what those in the majority of the state legislature did not—expand access to our right to vote."
Some of the actions officials could take include providing training to staff members on voter registration and general information on early, absentee, and in-person voting; disseminating information to residents on how to obtain forms of identification required for absentee voting; and including information about voter registration and absentee voting in water bills and other types of mail.
Georgia Gov. Brian Kemp's office did not immediately respond to The Epoch Times' request for comment.
It comes amid mounting pressure on large corporations to take a stance on the ongoing battle over voting rights and election integrity in America. Georgia's newly enacted election law has garnered intense scrutiny over recent months, after the state passed it to address concerns about election integrity that flared up in the November 2020 election. That election saw a number of states implement changes to voting regulations to expand mail-in voting.
While Democrats, some civil rights activists, and other critics say the law would disproportionately impact minority groups' access to voting, Georgia officials say the law seeks to streamline vote-counting procedures, ensure election integrity and legal votes, and includes some provisions to expand voting access.
The 95-page law adds a slew of changes to the way Georgians vote, including requiring photo or state-approved identification to vote absentee by mail. The law also mandates that secure drop boxes be placed inside early voting locations with constant surveillance, and expands early voting across the state.
The law also shortens the election cycle from nine weeks to four weeks and requires a minimum of one week of early voting before Election Day. People who wish to vote absentee are also faced with new requirements.
Top executives from several large corporations such as Coca-Cola, Citibank, and Delta Airlines have openly taken a stance against the Republican-led election reforms aimed at protecting the sanctity of the ballot box in the Peach State. Among them was Major League Baseball (MLB), which vowed to move its All-Star game and 2021 draft out of Atlanta in an apparent effort to punish the state.
Republicans in the Georgia Legislature and Congress have taken countermeasures in response to the corporate backlash.
Rep. Jeff Duncan (R-S.C.) on April 2 said he was instructing his staff to draft a bill that would remove the federal anti-trust exemption granted to MLB.
Meanwhile, a group of GOP state House representatives is seeking to remove all Coca-Cola Company products from their offices after the company's CEO called the legislation a "step backward."
Kemp has condemned the attempts to ostracize his state but expressed his resolve to stand his ground amid the public row.
"Free and fair elections are the foundation of who we are as a state and a nation. Secure, accessible, fair elections are worth the threats, they are worth the boycotts, as well as the lawsuits," Kemp told reporters during a press conference on April 3.
"I want to be clear. I will not be backing down from this fight, and neither are the people who are here with me today."