Arkansas on Tuesday became the first state to outlaw gender reassignment surgeries and hormone treatments for children under the age of 18, after Arkansas Gov. Asa Hutchinson, a Republican, vetoed the measure.
The House voted 71-24 and Senate voted 25-8 on Tuesday to override his veto.
The bill, known as House Bill 1570—or Arkansas SAFE (Save Adolescents From Experimentation) Act—will go into law 90 days after the Arkansas General Assembly goes into recess on April. 30.
It would prohibit physicians and healthcare professionals from providing gender transition procedures to people under 18 years old, or referring the minors to other healthcare professionals for the procedures. Medical providers who violate the law could face disciplinary actions from the appropriate licensing entity or disciplinary review board.
"It is of grave concern to the General Assembly that the medical community is allowing individuals who experience distress at identifying with their biological sex to be subjects of irreversible and drastic nongenital gender reassignment surgery and irreversible, permanently sterilizing genital gender reassignment surgery, despite the lack of studies showing that the benefits of such extreme interventions outweigh the risks," according to the text of the bill.
As he vetoed the bill this week, Hutchinson argued that signing the bill would be "government overreach," saying that it would be "starting to let lawmakers interfere with healthcare and set a standard for legislation overriding healthcare."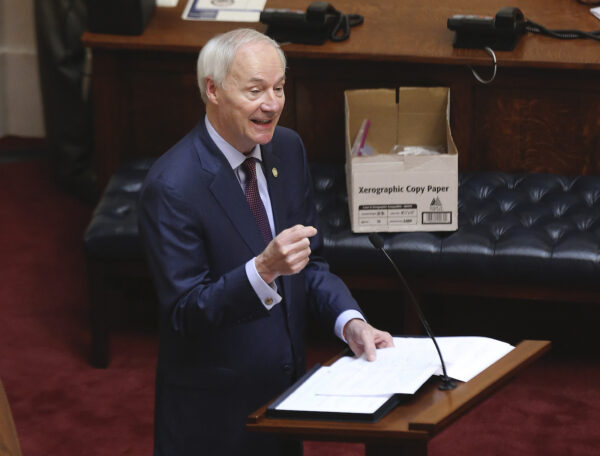 "If this was just to ban gender reassignment then I would support it, but those who are taking treatment are not grandfathered in, this is not the right path to put them on," Hutchinson added. He said that fewer than 200 children are using the treatments in Arkansas.
But the Arkansas-based group Family Council said the state Legislature's move was "the right decision."
"This is really good news. Gender-reassignment surgeries can leave children sterilized and scarred for life. Medical researchers do not know the long-term effects these procedures and therapies can have on kids. That is why many people equate them with experimenting on children," the group wrote. "This good legislation will protect Arkansas' children from sex-reassignment procedures. We appreciate their leadership, their moral courage, and their resolve to do what is right. This is historic legislation. Arkansans ought to be proud of their leaders for doing the right thing by passing the SAFE Act into law."
Pro-transgender organizations such as Arkansas-based group inTRANSitive had initiated a campaign to pressure Hutchinson into vetoing the bill. Some progressive groups have also opposed the passage of the bill.
The American Civil Liberties Union (ACLU) announced it would file a lawsuit to prevent the law from being enforced.
ACLU of Arkansas Executive Director Holly Dickson said in a statement that "this fight is not over," adding: "We will be filing a lawsuit to challenge this law in court."
Zachary Stieber contributed to this report.