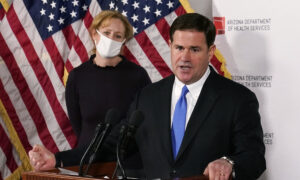 The Arizona Republican Party voted on Jan. 23 to approve resolutions to censure the state's Republican Gov. Doug Ducey, former Sen. Jeff Flake, and Cindy McCain, the widow of the late Sen. John McCain (R-Ariz.).
The party censured Ducey for imposing restrictions in response to the CCP (Chinese Communist Party) virus that "restrict personal liberties and force compliance to unconstitutional edicts," the Arizona Republic reported.
The Republicans censured Flake, saying he "condemned the Republican Party, rejected populism, and rejected the interests of the American people over globalist interests," while the state party said McCain, who endorsed Joe Biden for president, "has supported globalist policies and candidates" and "condemned President Trump for his criticism of her husband and erroneously placed behaviors over actual presidential results."
The three attended Biden's inauguration.
Flake had responded to the censure resolutions when they were first introduced, writing on Twitter, "If condoning the president's behavior is required to stay in the Party's good graces, I'm just fine being on the outs."
Officials in Ducey's office and the McCain Institute didn't respond to a request for comment by press time.
During the same meeting, the Arizona GOP voted to reelect Kelli Ward as the party's chairwoman. Ward won after an endorsement from former President Donald Trump, who called in to express his support.
In a short call, Trump called on Arizonans to help Ward get reelected as chair of the state's Republican Party, saying that he gives her his "complete and total endorsement," due to her stances on a number of issues.
"She is a terrific person. She is a person I know. You'll never find anybody as dedicated to every aspect we're all dedicated to," Trump said.
Ward played a central role in Trump's fight to protect election integrity, filing lawsuits in Arizona to question the accuracy of the election results in the state.
She ultimately fended off several challengers, winning 51.5 percent of the vote to 48.5 percent against challenger Sergio Arellano in the second round of voting.
During a speech prior to the votes, Ward promoted herself as an anti-establishment Republican that aims to continue Trump's vision to put America first.
"The decision is ours. Are you going to reelect me and show the state, the country, and the world that we are an America first Arizona, or will we go back to the dark days before Trump?" she said.
Janita Kan contributed to this report.