Arizona Gov. Doug Ducey said Vice President Kamala Harris is not the right person from the White House to lead efforts to mitigate the illegal immigration crisis at the U.S. southern border because she has not shown she considers the situation a serious threat.
"Vice President Kamala Harris has been put in charge of border security. She's about the worst possible choice that one could make. At no point in her career has she given any indication that she considers the border a problem or a serious threat," Ducey told reporters March 24.
"If President Biden's intent was to show that he's taking this issue seriously, he's really done the exact opposite here. He's completely trivialized this issue by putting someone in charge who, flat out, just doesn't care," Ducey said.
Arizona shares approximately 350 miles of border with Mexico. According to the immigration watchdog organization Federation for American Immigration Reform, the latest Census data shows that education, medical care, and incarceration for illegal immigrants in Arizona is costing state taxpayers about $1.3 billion per year.
Ducey's comments came shortly after Biden announced handing the vice president the role, making her the administration's point person for talks with Mexico and Central American countries about solutions to the migration issues.
During a visit to the border last week, Ducey criticized the Biden administration's response to the surge at the border, which he said has sent mixed messages to those seeking to test America's immigration laws.
"This morning, Biden's DHS Secretary @SecMayorkas claimed, 'the border is secure'. The situation unfolding at the border is a crisis and DC is completely divorced from reality," Gov. Ducey wrote in a Twitter post.
Bringing more details to light about what is happening at the southern border, ABC's chief national correspondent Matt Gutman told the network's This Week program that the situation is worse than it has been for the last few years.
"This is unprecedented. We've never seen numbers like this inside these border patrol facilities, which in some cases are jail-like, in most cases are warehouse-like. This is pretty much twice the number at the peak in 2018-19, and what we're seeing in some of these facilities is overcrowding that almost boggles the mind. In one facility in Donna Texas—it has a capacity of 250 beds—there are 3,900 kids inside there," Gutman said. "Can you imagine the kind of social distancing they have there, there is none."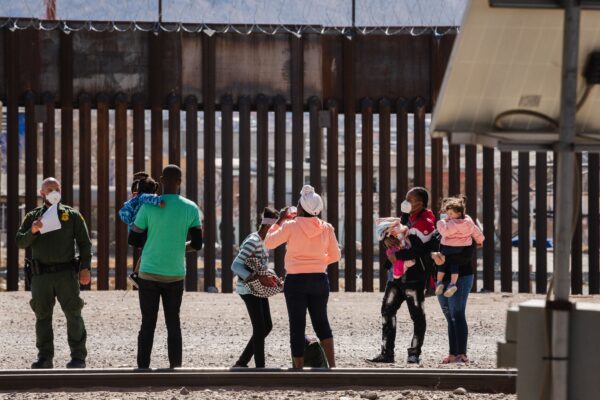 Harris admitted on Wednesday that there is a huge problem at the border.
"Well, okay, look, it's a huge problem. I'm not going to pretend it's not, it's a huge problem," Harris said while speaking to Gayle King on CBS.
"Are we looking at overcrowding at the border, particularly these kids? Yes. Should these kids be in the custody of HHS, the Health and Human Services, instead of the Border Patrol? Yes. Should we be processing these cases faster? Yes. This is, however, not going to be solved overnight," Harris said.
She pointed to policies under the Obama/Biden administration, like the Central American Minors (CAM) Program, which allowed lawfully present parents in the United States the opportunity to request a refugee or parole status for their children residing in the Northern Triangle, that she said was helping stem the flow of migrants.
"There are things that we need to do, especially since there was a system in place previously before the last administration, to allow us to process these kids in their country of origin. That was dismantled. We have to reconstruct it," Harris claimed.
The Trump admin had halted the parole program of CAM in August 2017 and the entire program in November 2017 after a U.S. government review found that "the vast majority of individuals accessing the program were not eligible for refugee resettlement."
Vulnerable Salvadorans, Hondurans, and Guatemalans were instead able to apply for refugee status under the Protection Transfer Arrangement (PTA) set up in cooperation with the Government of Costa Rica, the United Nations High Commissioner for Refugees (UNHCR), and International Organization for Migration (IOM).
Read More
United States Signs Asylum Pact With Honduras to Curb Illegal Border Crossings
In a November 2019 interview during her presidential campaign, Harris had outlined to reporters her vision for immigration reform.
"One of the reasons I'm running for president is to pass comprehensive immigration reform, with a pathway toward citizenship. In my first days in office, I will also, by executive order, renew the DACA protection, not only for our Dreamers but for their families and their parents. And on day one, I'm going to shut down those private detention facilities," Harris said at the time.