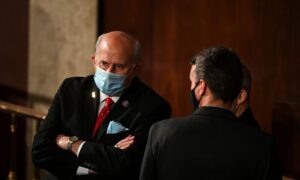 The House Ethics Committee has rejected an appeal made by Rep. Louie Gohmert (R-Texas) over a $5,000 fine for evading metal detector screening in violation of the House's new security rules.
According to a Feb. 4 memo (pdf) by Capitol Police, Gohmert "deliberately avoided" the screening when he entered the House chamber that day, and ignored an officer who was trying to explain to him the new rules.
The new screening protocols were adopted by the House in a 216-210 vote in the aftermath of the Jan. 6 breach of the Capitol. No House Republican voted in favor of those measures, which include a fine for House members who evade or otherwise refuse to go through metal detectors. The fine, which will be deducted directly from their salaries, is $5,000 for first-time offenders, and would increase to $10,000 for each subsequent offense.
Gohmert had appealed the fine, but a majority of the House Ethics Committee—split evenly along the party line—"did not agree" to the appeal, according to a letter (pdf) to House Speaker Nancy Pelosi (D-Calif.) by Committee Chair Ted Deutch (D-Fla.) and Ranking Member Jackie Walorski (R-Ind.)
Gohmert, in his 5-page appeal (pdf) to the Committee, said the fine was "based on erroneous facts," stating that he had fully complied with the security screening during his first entry into the House chamber on Feb. 4. He said he then left the chamber briefly to use the restroom located outside the Speaker's Lobby, and was unaware that he had to undergo screening again for reentry.
"The officer said I needed to be wanded but since I had already been through the metal detector thoroughly and having never before been required to be wanded after already having entered the Floor properly, I returned to the House Floor to engage in my turn to debate the bill under consideration," he wrote.
The congressman also complained that his Democratic colleges were treated differently by Capitol Police, claiming Rep. Nydia Velázquez (D-N.Y.) "walked straight through the metal detector without taking any metal out" on the same day of his incident.
"She set off the metal detector and kept walking," Gohmert wrote, adding that the congresswomen returned to take out the metals and went through the screening only after Republicans loudly protested about police officers' unfair enforcement.
Gohmert also claimed that he and other three unnamed witnesses saw Pelosi "avoiding the metal detectors by entering the House Floor through the Speaker's Lobby" without being wanded by anyone at all.
"Because I have sacrificed to become a public servant and am not a millionaire as is the Speaker who arbitrarily set the amount of the fine, this kind of massive fine becomes an arbitrary bar to eliminate the non-wealthy from Congress," Gohmert wrote, referring to Pelosi. "Obviously five thousand dollars to a millionaire is a mere pittance compared to the blow to someone who is of vastly lesser means."