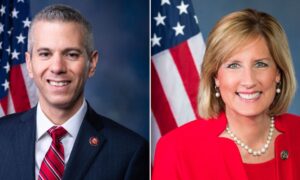 A county attorney in New York state said Tuesday that 12 ballots that haven't yet been counted in a yet-to-be called U.S. House race were not newly discovered.
"They're up in the Oswego Supreme Court. They've been there since all the ballots were brought up," Alan Gordon, who is on the county's Board of Supervisors, told The Epoch Times.
While the ballots aren't newly discovered, they are undetermined.
New York State Supreme Court Justice Scott DelConte is weighing whether to count them and 55 others that were recently discovered in Chenango County.
That batch is still in the county. They were recently found in one of the county's ballot drawers. "They just had overlooked them when they went to canvass the ballots," Gordon said. County officials are waiting to see whether the judge will authorize them to count the ballots.
The race in question is between Rep. Anthony Brindisi (D-N.Y.) and Republican nominee Claudia Tenney. The race is for the House seat representing New York's 22nd congressional district.
Brindisi's campaign is seeking to have the judge order an audit of some issues, such as how objections were noted by election boards. Tenney's campaign wants the judge to certify the results as they are, which would give her a victory by a 12-vote margin.
Local media outlets reported on Monday that during a hearing, DelConte, the judge, said 12 more ballots had been found over the weekend in a drawer in Chenango County. That was the batch Gordon alleges was not newly discovered.
The judge is expected to rule soon on how the election will proceed, WSKG reported.